Avi came to Finland more than 45 years ago, with his mother's ancient recipes. Based on those recipes, Avi developed delicious dishes to suit Finnish tastes. So, Baba's flavors have been developed for decades. That's why we know for sure that the flavors are deliciously in place.
Now, at Baba Foods, this food tradition is continued by Avi's children, who share the same love and passion for food. The service is in clear Finnish, but the heart beats at the pace of the Middle East. Taste and a good atmosphere are still at the heart of everything.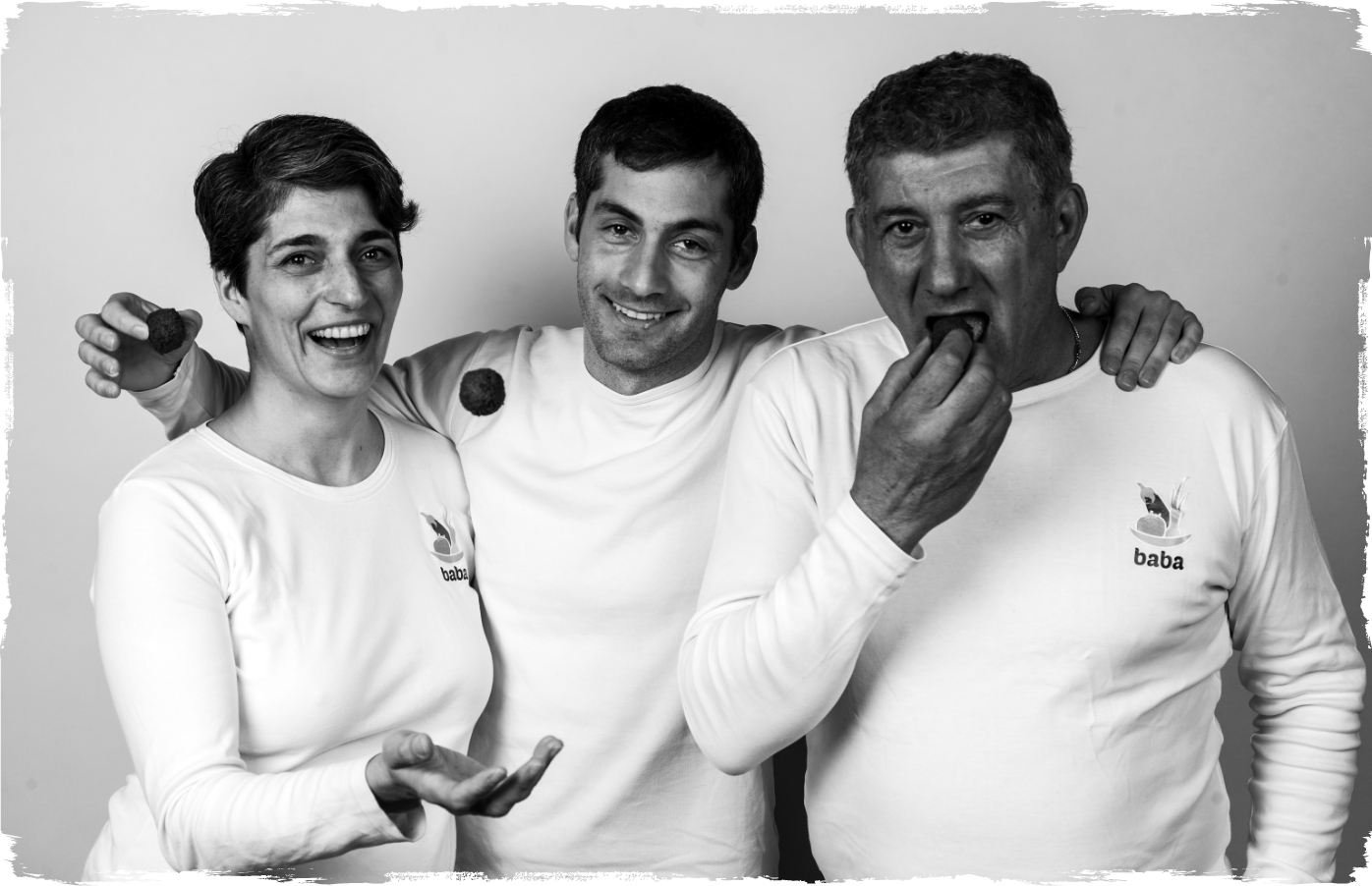 Baba wants to do the best. So good that you simply can't get better. That's why Baba's delicacies are carefully made from the best ingredients and as far as possible without additives.
tekemässä Suomesta parempaa paikkaa
Baba toimii rehellisesti, vastuullisesti ja eettisesti sekä mahdollisimman ekologisesti. Näin toimiminen ei ole ihan helppoa, mutta me teemme tässä onnistuaksemme aina parhaamme.
Baba ei halua olla vain tekemässä hyvää ruokaa, Baba haluaa osaltaan olla myös tekemässä Suomesta parempaa paikkaa. Sellaista, jossa kaikkien on hyvä olla ja jossa mahdollisimman monilla olisi töitä.
Suun kautta sydämeen – Babasta!
CheF Avi – reseptien isä
Behind Baba's recipes is beloved Chef Avi, whose delicious food was previously known only by few chosen ones. Avi has been making his delicacies in Finland for more than 45 years, while developing the recipes for Finnish tastes. The same passion for development still continues.
The popularity of Avi's dishes was so great that it was impossible not to set up Baba Foods. The company was founded by Avi's children. Today, Baba has already several employees, and a growing number of retailers selling the products.
Avi's delicacies have become familiar to thousands of customers, whose excellent feedback has inspired Baba to continue producing excellent food and developing new dishes.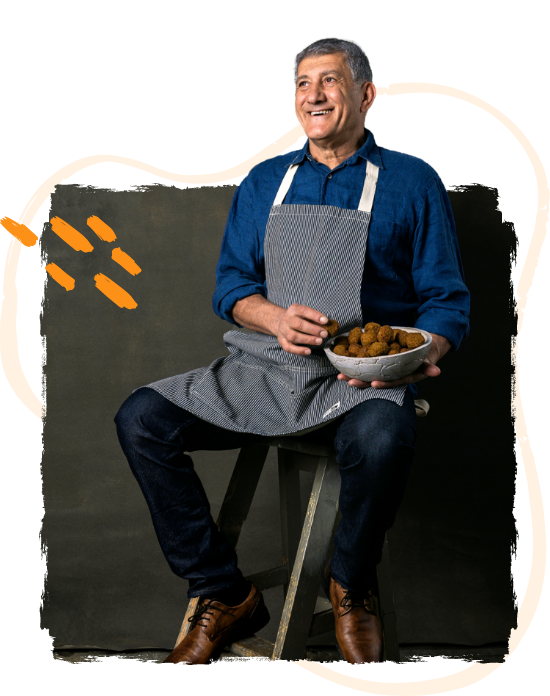 Baban arvoihin kuuluvat vastuullisuus, eettisyys sekä rehellisyys. Haluamme tehdä hyvää ympäristölle sekä ihmisille, jonka vuoksi pyrimme mahdollisimman vastuulliseen toimintaan. Teemme töitä sen eteen, että voit nauttia Baban tuotteista hyvällä omallatunnolla.
Meille on tärkeää tuottaa herkullisia tuotteita maku ja laatu edellä, jotta kotimaisen sekä ekologisen vaihtoehdon valitseminen on mahdollisimman helppoa.
 Valmistamme tuotteemme alusta alkaen itse, jotta voimme toimia rehellisesti ja varmistaa tuotteiden korkean laadun. Tuotteemme ovat sekä ekologisia että terveellisiä, ja kehitämme parhaillaan lisää tuotteita kauppoihin. Ekologisuus näkyy myös pakkauksissamme – luovuimme hiljattain mustasta muovista ja falafelit pakataan nykyään kierrätettäviin pahvirasioihin.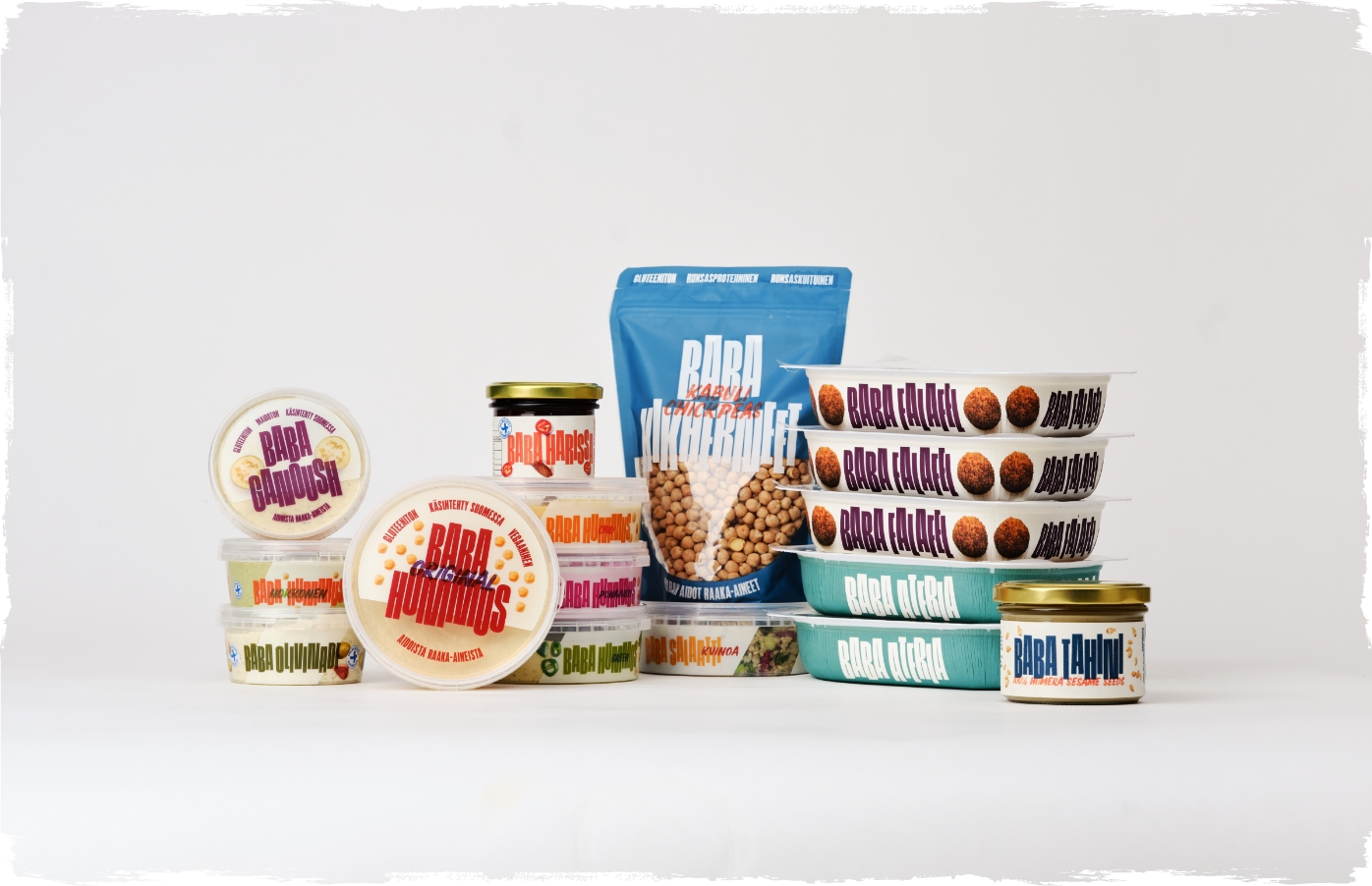 Yksin emme pysty varmistamaan ruoantuotannon vastuullisuutta, jonka vuoksi valitsemme yhteistyökumppanimme tarkasti. Teemme tiivistä yhteistyötä raaka-ainetoimittajien kanssa, sillä haluamme tuntea toimittajat ja ostaa raaka-aineemme suoraan tuottajilta. Molemminpuolinen luottamus on meille ensisijainen asia.
Ruokahävikin vähentäminen on tärkeä osa ruoantuotantoa, sillä maailmassa tuotetusta ruoasta jopa kolmasosa päätyy hävikkiin. Babassa ruokahävikki on pystytty pitämään minimissä tarkalla tuotannon suunnittelulla. Jos hävikkiä kuitenkin syntyy, lahjoitamme ruoat WeFood hävikkiruokakauppaan, eri yrityksille tai käytämme ne itse Baban Family Dinnereillä viikoittain.
Uskomme yhdessä syömisen lisäävän arvostusta ruokaa kohtaan ja saamaan ihmiset voimaan hyvin. Tämän vuoksi yksi missioistamme on yhdessä syömisen lisääminen suomalaisessa kulttuurissa.
Tavoitteemme seuraavalle viidelle vuodelle on lisätä kotimaisia raaka-aineita uutuustuotteissa, hyödyntää pakkausinnovaatioita sekä lisätä yhdessä syömisen kulttuuria tapahtumien muodossa.